[Editor's Note: Heavy GIFs coming, have patience if your page load is slow]
When the first round of the 2016 NFL Draft ended, the Dallas Cowboys were in prime position to nab a falling talent with the 34th-overall pick. Holding the third pick in the round with so many talented players available, the board was slated for the team to walk away with a pass-rusher that could help fill the defensive end need. Dallas' primary targets were Emmanuel Ogbah and Kevin Dodd. But after Ogbah and Dodd went back-to-back with the first two picks in the round, the Cowboys immediately went to the phones in hopes of trading down. But after the team couldn't find a suitor, the decision was made to select Notre Dame's Jaylon Smith with the pick.
It was generally thought that Smith would go a little later, but there are reason's Dallas took a chance. For starters, it should be said that Smith was the last first-round grade on their board. And while the injury is extremely significant, Cowboys' doctor, Dr. Daniel Cooper, performed Smith's surgery and if there's anyone that knows how that knee will hold up to have a playing career, it's Cooper.
There has been thought that Smith's situation will keep him out of the 2016 NFL season, but Smith has said that he absolutely believes that there's a chance he can play in 2016. And if he can, this pick could not only be the steal of the draft, but quite frankly the steal of the century. ESPN's Bill Polian, a former general manager, has stated before that Smith is a generational type of talent at linebacker. And for a team that loves its linebackers, making this move isn't all that bad of an idea.
Just two years ago, the Cowboys were ready to take Ryan Shazier. But then the Pittsburgh Steelers nabbed him, forcing the Cowboys to draft Zack Martin, which was still a terrific pick in its own right. Despite a decent linebacker corps of Sean Lee, Rolando McClain, and Anthony Hitchens, there are some questions on whether Hitchens can consistently play at a high level and McClain is only signed on a one-year contract, meaning he'd be the perfect bridge player for Smith to get healthy. Drafting Smith ensures that the Cowboys have used a draft pick on a linebacker for the twelfth straight season. Let's take a look at some game film of Smith and see what he can bring to Rod Marinelli's defense.
One thing that's clear on Smith is his ability to diagnose the play and figure out the run. On this play, Smith recognizes run quickly and then absolutely blows up an offensive lineman to get in the backfield. By doing this, Smith makes it easier for his teammates to find the ball-carrier.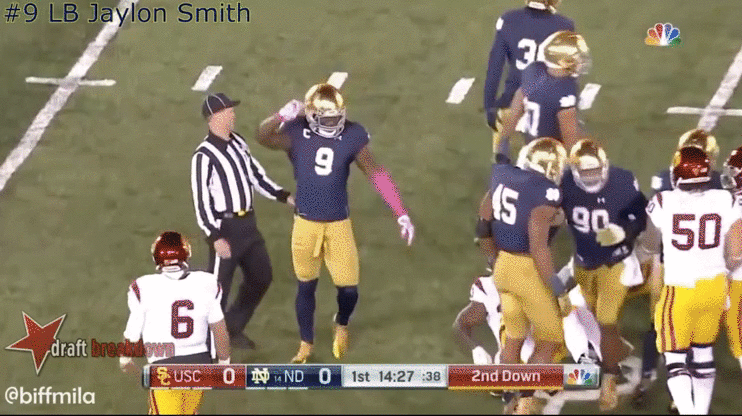 Playing the role of an off-ball linebacker, Smith is just so gifted in terms of his athleticism. It leads to him being more than exceptional as a ball-tracker. He's also a finisher. When he latches on, he's a sure tackler that can simply throw offensive players into the turf.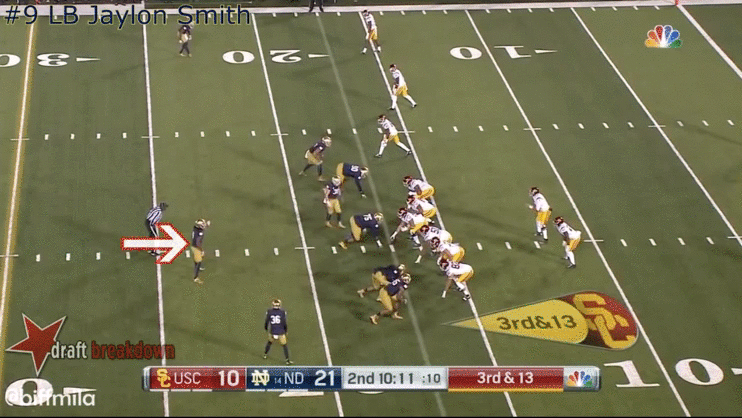 Smith's recognition skills are elite. Once he reads the play, he's extremely quick to the football and his technique at doing so is near impeccable. He's virtually everything you want from a hybrid linebacker.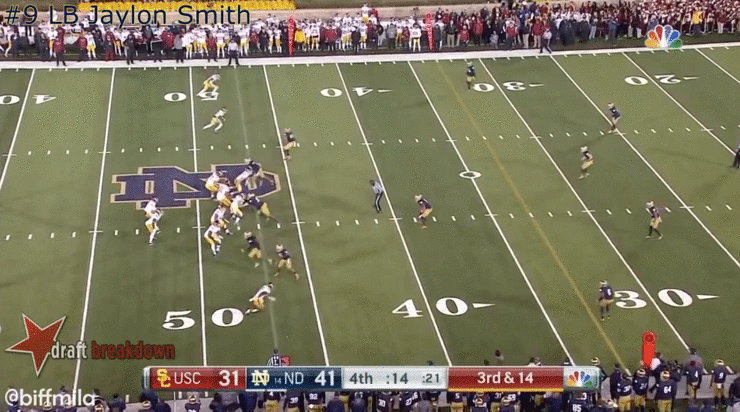 Just to express his range and power, I'll throw in another GIF below.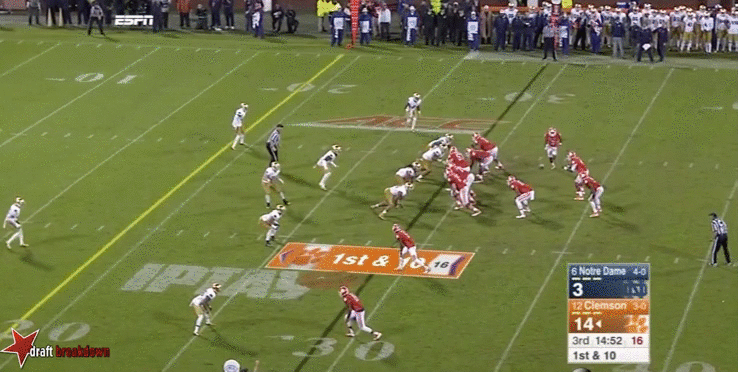 Interestingly enough, Smith has the look of not only a hybrid linebacker, but he can play the role of a plugger at linebacker. An example of his ball pursuit is below. Here we see Jaylon reading the play and finding an opening to get in the backfield to make a play.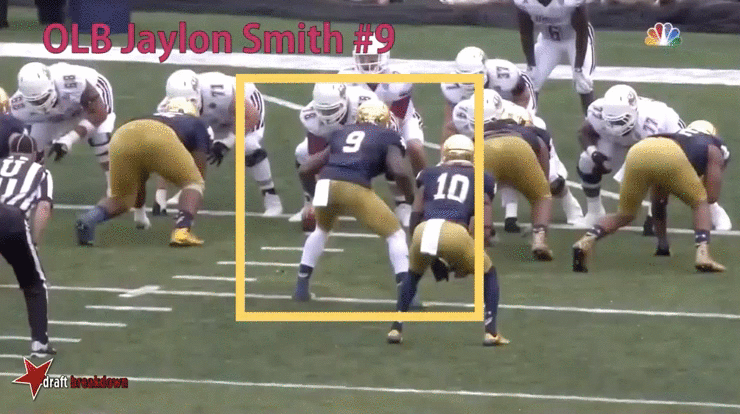 This is probably the clip that epitomizes the type of effect Smith can bring to an NFL defense. He's such a physical specimen that he makes the middle of the field in the second level virtually a nightmare for opposing teams to cross. Smith destroys the quarterback here, but also take note of his technique and how he times up the tackle.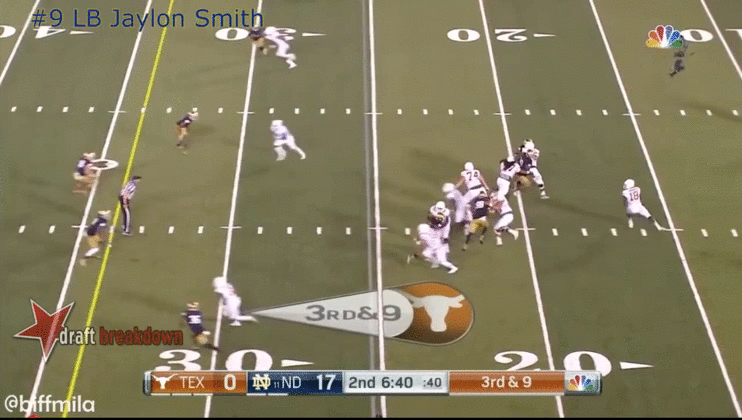 It's clear why Smith's on-field productivity warranted the Cowboys to give him a first-round grade. He's a special player who can bring so much impact and flexibility to a defense. Smith has the positional-flexibility to play all three linebacker spots in the 4-3.
Smith also displays terrific pass-coverage ability. On top of just the Will and the Mike, there are plays where Smith is even put at defensive end to sack the quarterback. This tells me he'd also be play to play the Sam role, too. He can cover ground from sideline to sideline and when he's coming to tackle, he's coming to tackle with power.
Once the nerve regenerates and Smith can prove his body is capable of an NFL workload, he's going to be a plug-and-play type of player. And if the Cowboys can get him on the field to start Week 1, it can give the Cowboys that clean-up guy they need behind their talented set of run-stuffing defensive tackles.
Again, this pick could be a bust if the injury doesn't heal, but it can also be a move that could give the Cowboys one of the most talented defensive players to declare in recent years. Patience will play a key role into his development, but if Smith can get healthy, this is the type of player that has the talent and ability to be among the greats at the professional level. That's the type of impact he can bring to an NFL roster and the type of player he can be to the Cowboys in particular.
Games watched: Ohio State, USC, Clemson, UMass, Texas, and Florida State (2014).