[Editor's Note: Heavy GIFs coming, have patience if your page load is slow]
A lot has been made about the Dallas Cowboys' backup quarterback situation. For the past three months, names like Jared Goff, Carson Wentz, Paxton Lynch, Nick Foles, and Brian Hoyer have all been linked to the Cowboys. But when the trades went through atop the first round of the draft and the Cowboys decided to hold onto their picks, it was clear that the plan was to simply wait until the draft to find their guy.
Sometimes with draft picks, it's easy to project what's going to happen. The Cowboys had coveted Dak Prescott for quite some time, meeting with him on separate occasions and bringing him in for workouts and official visits. So when the Cowboys used their fourth-round pick on Prescott, it really didn't come as that big of a surprise at all.
A four-year starter at Mississippi State, Prescott improved each year in college. He's a dynamic athlete and while many will view him as a read-option type of quarterback, his arm and touch are both extremely underrated. While there are many athletic quarterbacks, Prescott is somewhat of his own man in terms of measurables from previously drafted quarterbacks.
Prescott has drawn unfortunate comparisons to Tim Tebow, but those comparisons are more about his leadership qualities, physical presence, and physical nature. Let's take a look at some clips of Prescott that can make him a starting quarterback one day in the NFL.
First off, I'd like to mention Prescott's footwork, something he has worked tirelessly on since his freshman season. In this clip, Prescott analyzes the field and the dials up a pass outside of the numbers, showing off his arm strength in the process.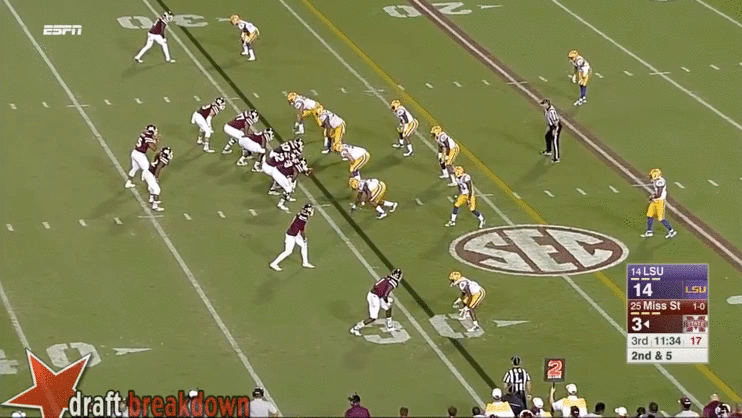 Taking snaps predominately from shotgun, Prescott looks eerily similar each time he steps back. In this clip, Prescott shows off his deep-ball wind-up. It's a bit elongated, but Prescott puts good touch on the football, especially on passes near the sideline.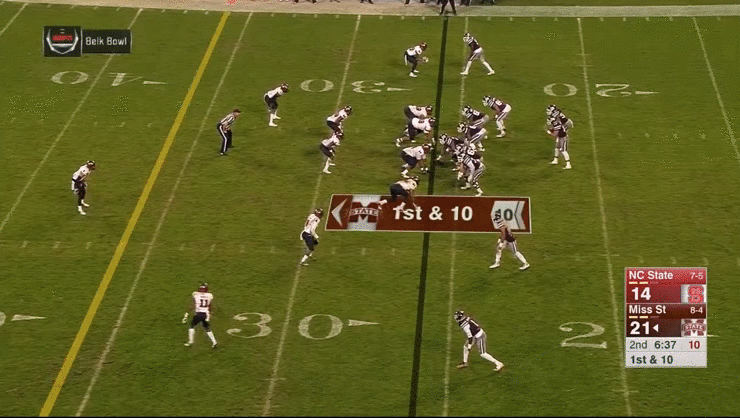 Despite an incoming pass rusher, Prescott has a good feel in the pocket. In this clip, he scans the field, going through his progressions to then hit his man perfectly in stride down the field. Prescott's downfield touch is impressive. People will continue to say he's a run-first quarterback, but throws like these tell us otherwise.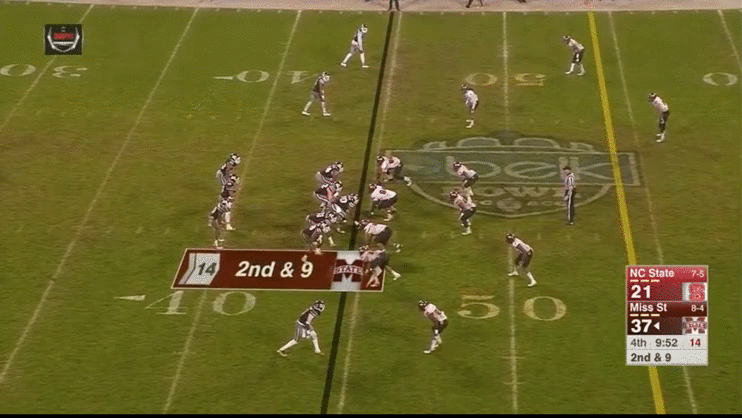 On top of his poise and talent, there is always the possibility of the Cowboys incorporating something like this within their offense. Dak isn't only a running quarterback, but he does provide that element that has not been felt for the Cowboys' offense in quite some time.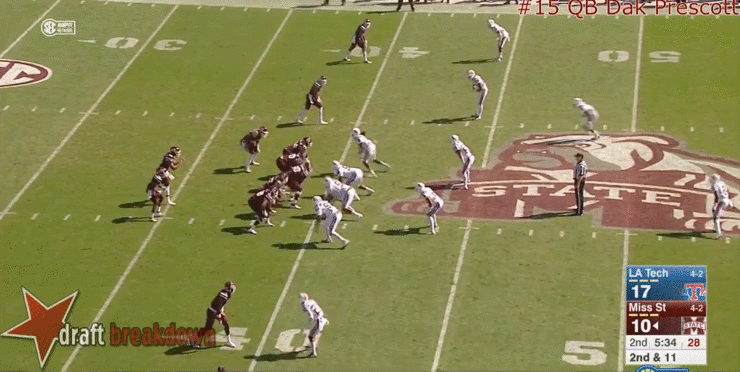 When the pocket breaks, Prescott's athletic ability allows him to move out of the pocket. From there, when he finds his man, he quickly turns his hips to set his feet before unleashing a long ball.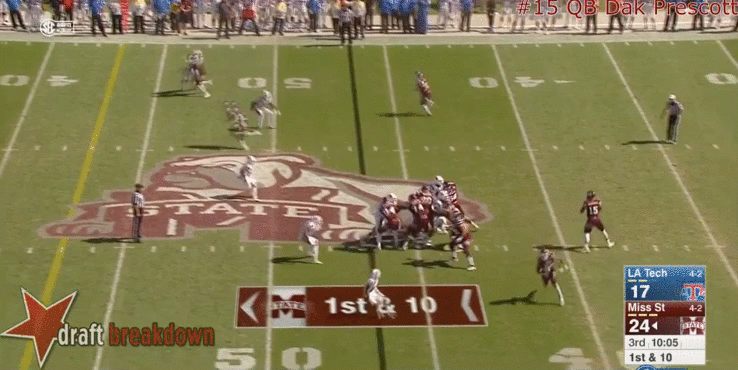 Again, Prescott's three-step drop is extremely similar each time. I love how he keeps the football close to his chest with two hands. His footwork is relatively good. There could be some work with his mechanics, but that's why he's coming in to be a developmental guy. Prescott delivers nice spiral in this clip.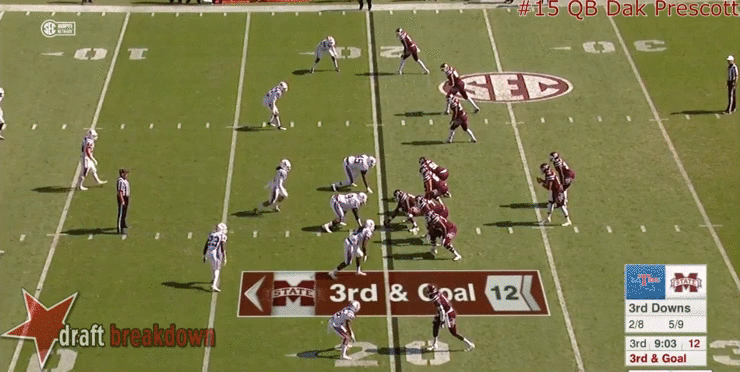 Here's a clip I really like. Facing a collapsed pocket, Prescott has the awareness and mental clock to step up and then deliver a strike on the outside for a back-shoulder pick.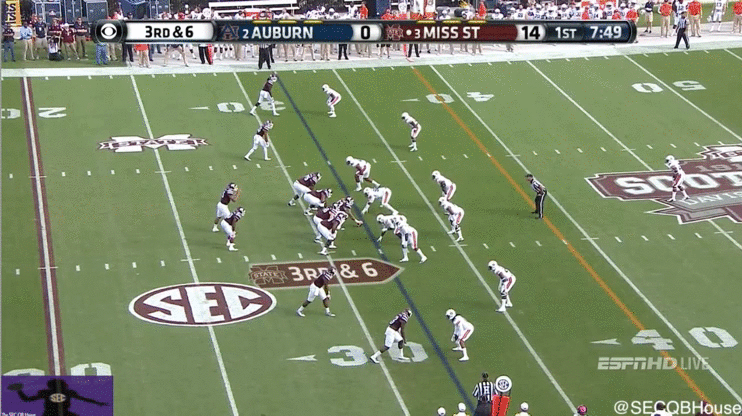 There are times where Prescott's footwork look good and this is an example of that. Prescott dials up a pretty pass here, putting the football where it needs to be.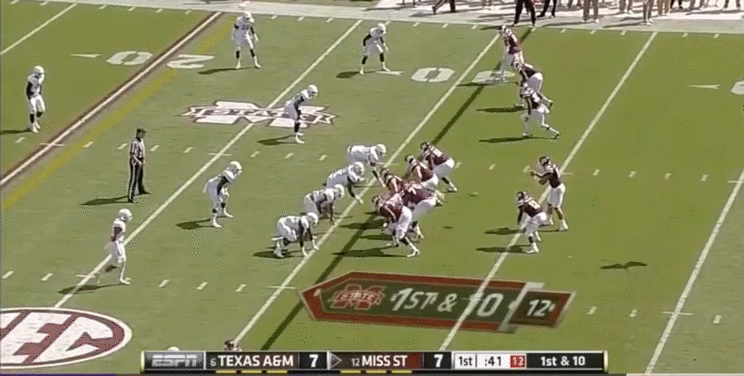 Something I love about Prescott's passes is how he can change his ball pattern. When the ball needs to be looped and dropped in, he can do that. And when he needs to throw a bullet that is low to the ground, he can do that too. We see that here as Prescott puts the ball in a spot where only his man haul in the pass.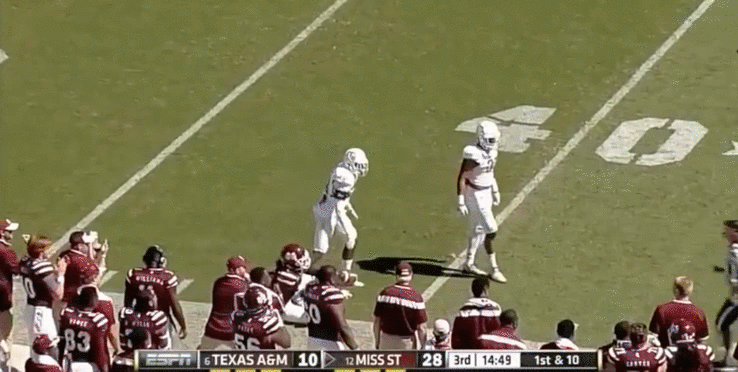 There are many traits to like out of Prescott. In the post-draft press conference, Jerry Jones was ecstatic about Prescott's leadership skills.
Jerry Jones talking about a QB needing leadership, being the type of player everyone follows. Said that's Dak Prescott. "He's got it." — Jon Machota (@jonmachota) April 30, 2016
If Prescott can develop into the quarterback the Cowboys' brass thinks he can become, it will be quite interesting as the Cowboys haven't had a quarterback with the athletic ability like Prescott has in quite some team. Unfortunately, I have some concerns for Prescott. At Mississippi State, Prescott's system featured a ton of timely-based, short-yardage passes. These types of formations and schemes don't really help quarterback evaluators. And while Prescott does display touch and the capability of getting the ball out to each level of the defense, there are lapses where Prescott feels pressure too fast and throws errant passes.
One thing for certain is that Prescott is a project. In fact, there's a high probability that he isn't even the team's No. 2 quarterback come Week 1. Nevertheless, Prescott has been on the Cowboys' radar for awhile and considering they got him in the fourth round when draft experts had second- and third-round grades on him, that's unbelievable value.
The Cowboys needed to figure out their long-term answer at the quarterback position. Prescott will have all the ability to eventually become, but even if he flames out, the Cowboys still didn't give up that many assets for him. Any time a team drafts a quarterback, it's extremely risky. But the Cowboys have three capable quarterback evaluators in Jason Garrett, Scott Linehan, and Wade Wilson that will be able to help Dak come along and become what they want out of Tony Romo's successor.
Games watched: LSU, NC State, Louisiana Tech, Texas A&M, Auburn (2014), Texas A&M (2014).