[Editor's Note: Heavy GIFs coming, have patience if your page load is slow]
After re-signing Morris Claiborne and issuing a paycut to Brandon Carr, it's been made clear that the Dallas Cowboys do not believe they have a huge hole at the cornerback position. Orlando Scandrick returning will do wonders for the positional group, as the Cowboys will finally have their shutdown slot cornerback returning to pair with Carr and Claiborne.
With Byron Jones making the transition to free safety, Terrance Mitchell will likely have a bigger role in 2016. However, because Carr and Claiborne do not have contracts past the 2016 season, the Cowboys needed to add a cornerback and they did just that in the sixth round when they drafted Anthony Brown out of Purdue.
Admittedly, I did not know much about Jones when they made the pick, but some brief research made my eyes pop. He's an athletic guy who has the positional flexibility to play either inside or outside. Jones tested extremely well at the combine and while the Cowboys like their corners now to be over the 6-foot threshold, they made the exception for Brown as his value in this sixth round was too good. They had a fourth-round grade on him. Let's take a look at his spider graph from Mockdraftable.
One thing that is worth mentioning is his strength paired with his speed. On top of having the second-fastest 40 at the combine, he also fits within the 84th percentile for his bench press, putting up 19 reps of 225 pounds at 5' 11", 192 pounds. Brown may struggle in man, but he's a real solid fit as a zone cornerback. Let's take a look at some clips of Brown and see why he can contribute from the get-go for the Cowboys.
As one could've guessed, because Brown has such good speed, it allows him to make plays like these. Even though he may not be in the best position, his closing speed allows him to come in and deflect the football.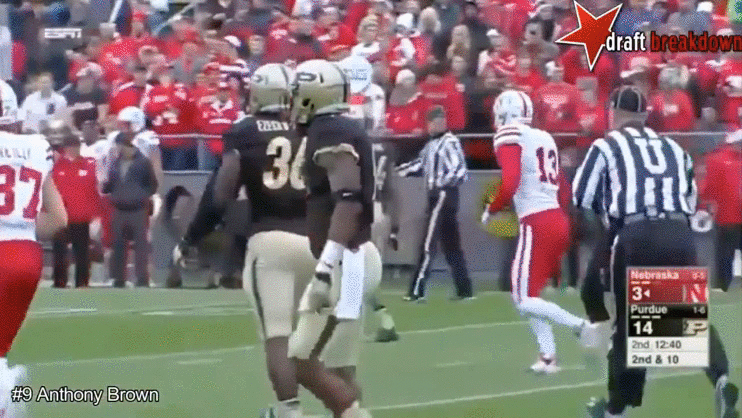 I touched upon it earlier, but Brown is an extremely intelligent corner that can sit in a zone and understand the play in front of him. Here, he follows the quarterback's eyes and comes up with an interception.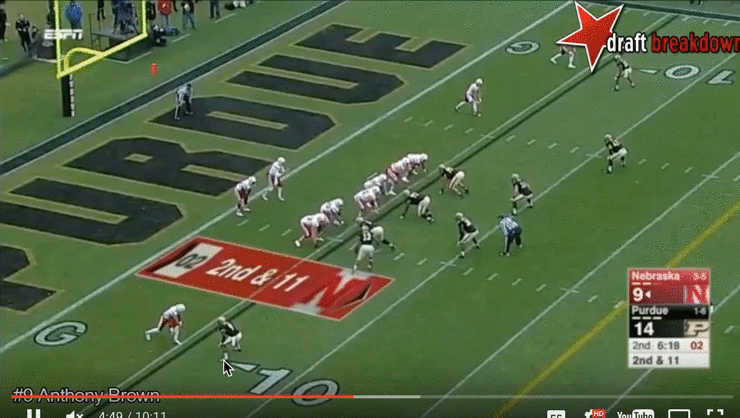 I'd like to see Brown get his around on this play, but he does an excellent job at prying the ball away from the receiver to then adjust his vision to pick off the football. It's also worth noting that he is in terrific position here as well.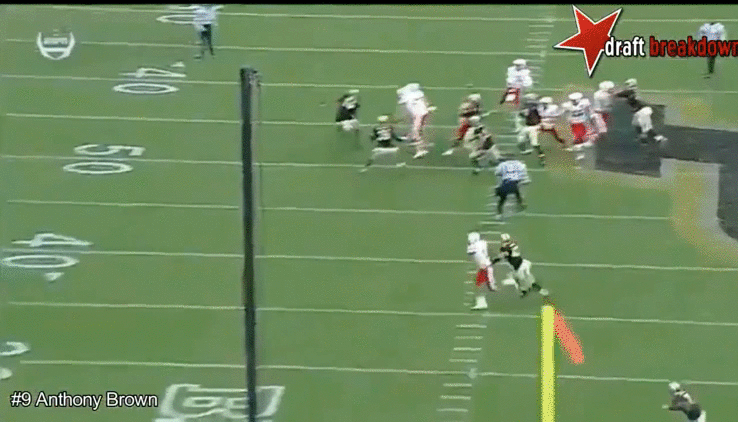 The next play is impressive, as Brown is capable of keeping his eyes on the quarterback while also covering up his man. His intelligence and instincts leads him to jump in front of the receiver's route. The amazing thing is that he wasn't even covering the intended receiver.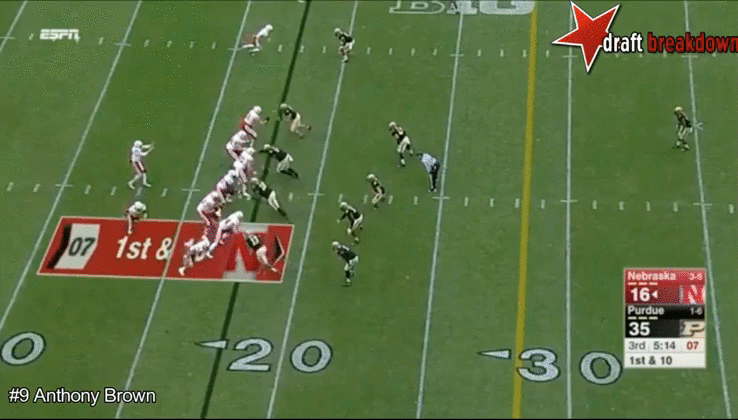 Unfortunately, I was only able to get my hands on two tapes. Make no mistake that the Cowboys have seen probably every game of Brown's, dating back to his freshman year. As expected out of a sixth-round pick, Brown has the makeup of a raw cornerback prospect. Initially, I was scared he would be delegated to the slot and the slot only, but his tape proves that he has some traits you look for in an outside cornerback. He has awesome closing skills, he's an intelligent cornerback, and he understands his responsibility well.
There are a couple areas I'd really like to see Brown improve in. For a smaller corner, he needs better technique at tackling. He often just puts down his shoulder, giving off the feel of a lazy tackle. I love his positional flexibility, his play speed, and footwork, but he needs to do a better job at sticking with receivers downfield and he needs to improve in man coverage.
Again, Brown is a prospect that will need to be developed, but there are traits that could potentially turn him into a guy like Tracy Porter was in the NFL. A small, feisty cornerback that plays with a chip on his shoulder and one that can be play anywhere he's asked to. In the sixth round, getting a project cornerback that can play both inside and outside, and perhaps even at safety, is definitely something that can help the Cowboys in the future if they can develop and bring him on correctly.
Games watched: Nebraska and Illinois.