[Editor's Note: Heavy GIFs coming, have patience if your page load is slow]
When the Dallas Cowboys drafted Darius Jackson with their second sixth-round pick, it provided for some criticism and some question marks from not only Cowboys fans, but also the draft community. Dallas invested heavily in the running back position atop the 2016 NFL Draft in selecting Ezekiel Elliott with the fourth-overall pick. And while "Zeke" is the man for the job, it should be said that the Cowboys may not be as comfortable as it seems behind him.
It's no secret that the Cowboys changed around their running philosophy to fit Darren McFadden and what he excelled in. Dallas wants to run a zone-blocking scheme and putting Elliott back there would allow them to do so. But in 2015, to fit McFadden, the Cowboys used more of a man-blocking scheme.
And while keeping McFadden as a mentor to Zeke makes a ton of sense, considering both of them were fourth-overall picks, there's only so much roster space and reps to go around. The Cowboys also signed Alfred Morris in free agency and they value him as a rotational piece, McFadden or Lance Dunbar, or both, could very well be the odd men out.
Regardless, Jackson is another runner that could excite behind this offensive line. He's a zone-blocking type of back that runs with a great balance of power and speed. And while Elliott shouldn't have to worry about being the best rookie back on this team, I fully believe Jackson can play an intriguing role as a change-of-pace, keeping-fresh type of back. Last year, the Cowboys loved David Johnson and if there is one player in this class that reminds me of Johnson, it is the Eastern Michigan product. Check out Jackson's spider graph on Mockdraftable and see how similar he is to Johnson.
99th percentile for broad jump, 96th percentile for vertical jump, and 94th percentile for 40-yard dash? Jackson screams a SPARQ freak and SPARQ-draft experts seem to really love the player and the fit.
Cowboys take #Slaytics legend Darius Jackson. Love it for them. Loaded at RB now. 97th SPARQ percentile among RBs since 1999. — Ethan Young (@NFLDrafter) April 30, 2016
Judging by the athlete he is, Jackson may not be just a spell back in Dallas. He has the potential to be somewhat of a gadget player if the Cowboys use him correctly. Imagine a sub package with him, Elliott, and Lucky Whitehead. That trio screams dynamite. The pick of Jackson could put the writing on the wall for McFadden. I just don't see the team cutting Alfred Morris. They signed him for a reason. And regarding Lance Dunbar, he was establishing a really nice role on this offense before the knee injury. Let's take a look at some tapes of Jackson and see why there is a ton of buzz on him.
As one could expect from his frame, Jackson is a guy that's extremely tough to tackle. He's built quite well and his speed allows him to run through weak tackles. In the later parts of games, Jackson mixed in with Elliott could pose problems for defenses.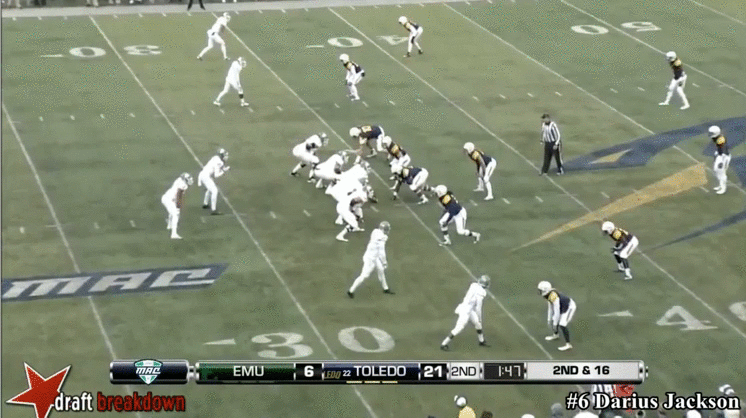 Perhaps the most impressive part of Jackson's game is his lateral quickness. Jackson is exceptional at moving sideways and finding the hole. As we see again in this clip, his combination of power and speed can make it quite hard to bring him down.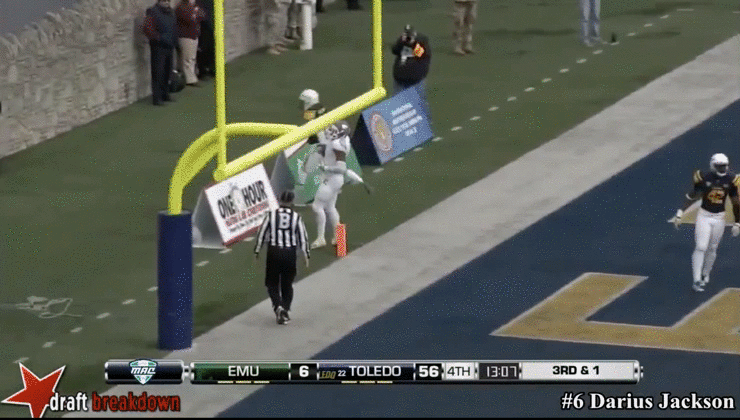 His frame is cut and his footwork is so quick and nifty. When he gets downhill, he can lay the lumber. But he doesn't have problems making holes for himself and creating space with his feet.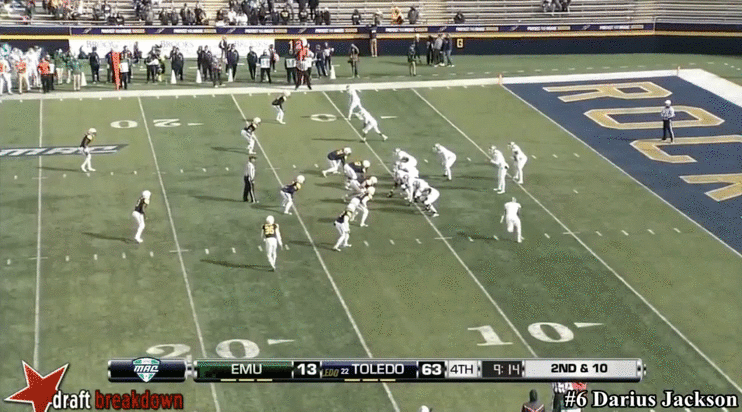 The reason why I like Jackson as a change-of-pace back is quite simple. When Elliott needs a break, the Cowboys can bring in a fresh runner like Jackson. By giving him the smallest of holes, Jackson can break a deep run. That's how dangerous of an element he can bring to this offense.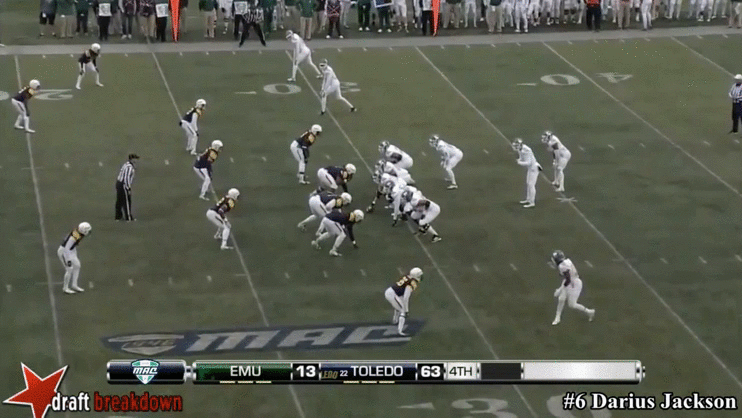 The Cowboys haven't really had a home-run running back in awhile and they drafted two this offseason. Once Jackson sees daylight, his field vision and speed allow him to put six points on the board.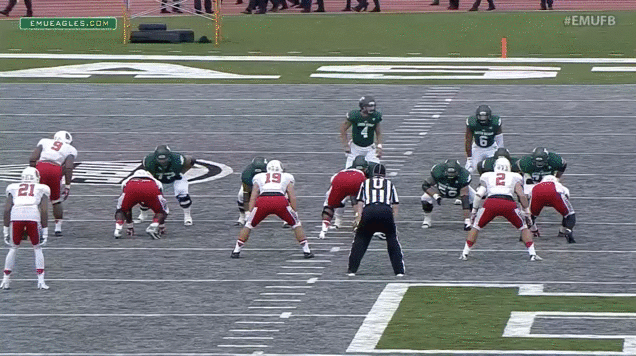 He's not just a situational running back, however. Jackson provides an element out of the backfield that makes teams account for him each play.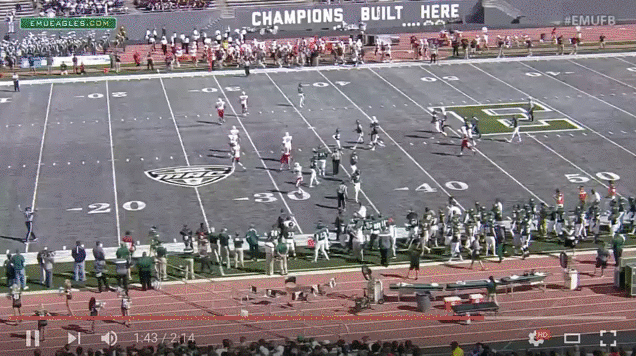 Jackson continuously runs through arm tackles. He's just so powerful and if he can be used in the correct sub-packages, I'm really excited to see the type of player he can be for the Cowboys.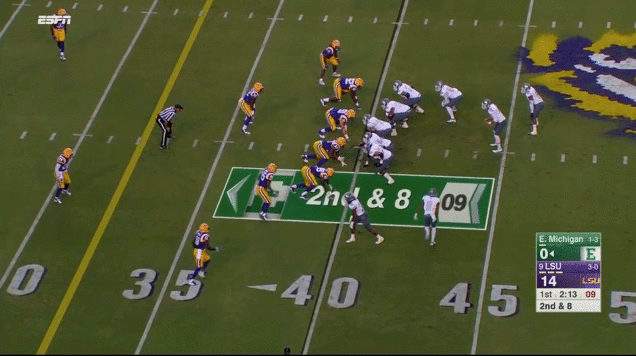 Jackson's downfield vision is also quite special. In this clip, Jackson changes his running direction to find more running space to put up six.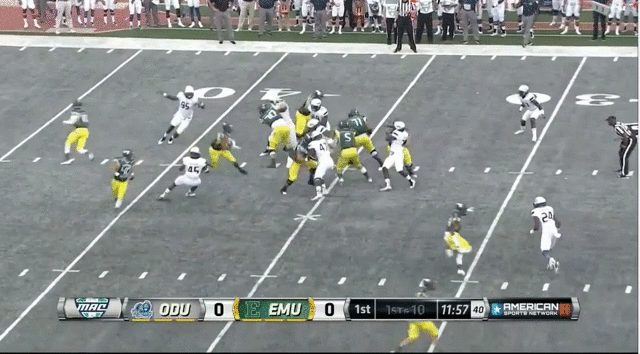 The next clip highlights the pass-catching element of Jackson's game and what he can do in open space. Power and quickness down the field are dangerous, and it's on full display here.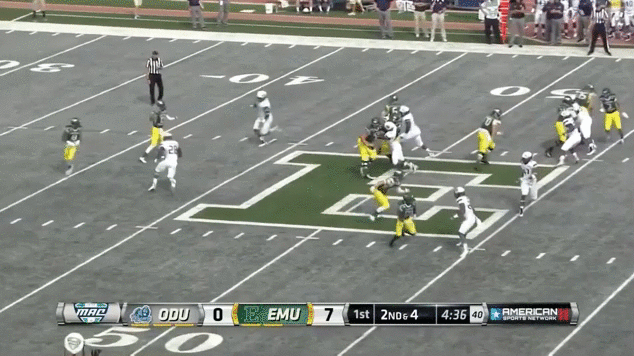 He'll always be known as that back who was drafted with Elliott, but there are tools in Jackson's game that are extremely reminiscent of Jerick McKinnon, when he came out of Georgia Southern just two years ago. Like McKinnon, Jackson is an athletic freak that can bring a ton of elements to an NFL offense. He'll face stiff competition for a roster spot, but the Cowboys clearly felt that it wasn't worth the risk to have him go into undrafted free agency.
Jackson fits the "Right Kinda Guy" mantra Jason Garrett preaches and if he can make his way onto the roster, I wouldn't be surprised if this staff fell in love with his work ethic and the combination of speed and power he can provide as a spell back.
Games watched: Toledo, Ball State, LSU, and Old Dominion.