The 2016 NFL Draft is over, done, capeesh, finito. But we're still hearing things about how the Cowboys' draft strategy played out. According to Peter King's article, the Cowboys had Paxton Lynch as the 12th-best player on their board. Leading up to the draft, the Cowboys had been linked to Lynch. The need for a developmental quarterback was there and the desire for Lynch was well-documented.
After Dallas selected Ezekiel Elliott at pick number four and the draft got to around the 19th overall pick, the position where the Buffalo Bills were on the clock, the Cowboys started to pick up the phones in hopes of trading a second- and fourth-round pick (34 & 101) to select Lynch.
Dallas called each team in the twenties. The one team that showed interest was the Seattle Seahawks. But Seattle got a better offer from the Denver Broncos, a first- and a third-round pick (31 & 94). The Broncos and the Seahawks agreed on the trade, Lynch was selected by Denver, and John Elway expressed his happiness on Twitter. Denver's war room was ecstatic. But Dallas' war room, well, it was more of a coulda-shoulda-woulda.
Dallas stayed true to their board, and while the next quarterback on their target list was Connor Cook, the Oakland Raiders moved up just in front of them atop the fourth round to nab the Michigan State product. Prior to the draft, there had been a thought that the Cowboys would select Prescott in the third round with the 67th overall pick. After all, the Cowboys had a third-round grade on Prescott, so when he was available for the Cowboys with the 135th overall pick, the Cowboys pulled the trigger.
Their two targets all along were Lynch and Prescott, two quarterbacks coming from schemes that historically do not translate to success in the NFL for a quarterback. Both Lynch and Prescott have changed their careers around since arriving in Memphis and Starkville, respectively. Dallas saw glimpses of post-life Tony Romo when he went down twice with the collarbone injury. It wasn't pretty. Again, the need for a developmental quarterback was there and the Cowboys were in love with these two prospects.
After the Cowboys picked Prescott and it settled in that Dallas finally became serious about Romo's successor, a few thoughts came into mind. One of which was the striking similarities between Lynch and Prescott. Let's dissect the similarities and draw comparisons between the two.
| | | |
| --- | --- | --- |
| | Paxton Lynch | Dak Prescott |
| Arm length | 34 1/4" | 32 1/4" |
| Hand size | 10 1/4" | 10 7/8" |
| Broad jump | 118" | 116" |
| 3-cone drill | 7.14 | 7.11 |
| Agility score | 11.40 | 11.43 |
And while their frames are much different, I tend to look past weight and height with quarterback. There are a ton of similarities and they go beyond just measurables. Let's take a look at Prescott and Lynch throwing a similar pass.
Lynch: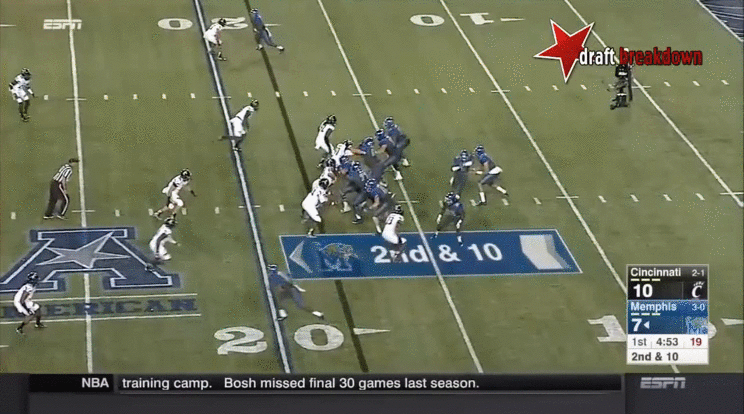 Prescott: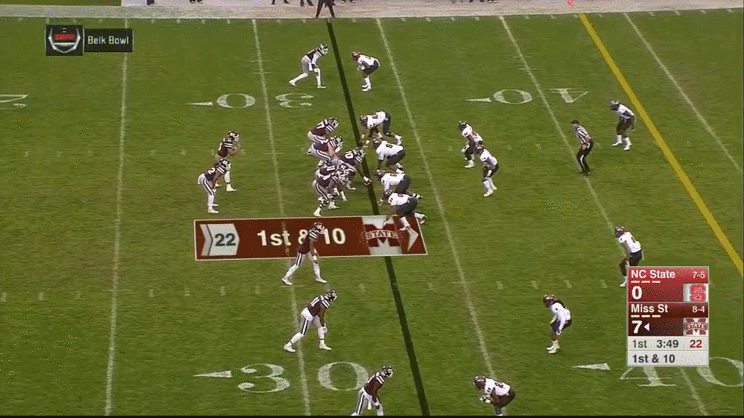 Check out the releases. More importantly, check out the release points. In Lynch's clip, his elongated release makes it harder to see the comparison. But both quarterbacks look exactly the same in terms of where they're releasing the football and their follow-through. One thing to note is the mechanics of both quarterbacks. Prescott, being the much-more seasoned player, takes good guiding steps and then rocks back off his feet to pop up and follow through. On the other hand, Lynch panics in the way where he delivers the football before perfecting his mechanics. Fortunately for him, his arm talent outweighs this problem.
Next, let's dissect the back-shoulder fade. First, let's look at Lynch's clip.
Lynch: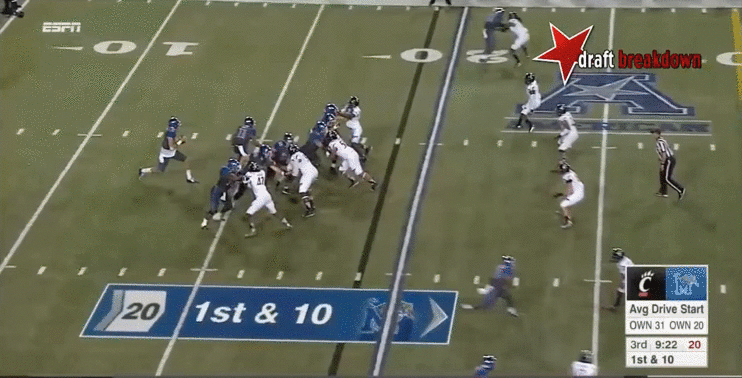 Prescott: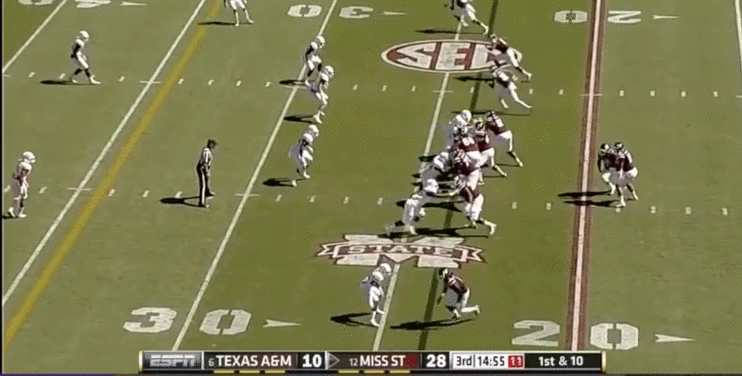 Subtleness is seen in both quarterbacks. These back-shoulder passes are timed throws. Each quarterback knows when to release the ball and how fast to release the ball. But who throws the more accurate pass? Take in count that Lynch's receiver falls down and this ball is on the money. The quarterbacks look eerily similar, releasing the ball at the same point and putting the football in the same spot, but Prescott is actually the one that gets the football to its destination faster. And we always hear about Lynch's crazy arm strength, but could it be as simple as he's 244 pounds and he's strong that makes people think like this?
Both quarterbacks have immense athletic ability. This allows them to not only have a running element out of the backfield, but it gives them the ability to make "wow" throws on the run. In these following clips, Lynch and Prescott can't rely on their legs, it's only arm strength.
Lynch: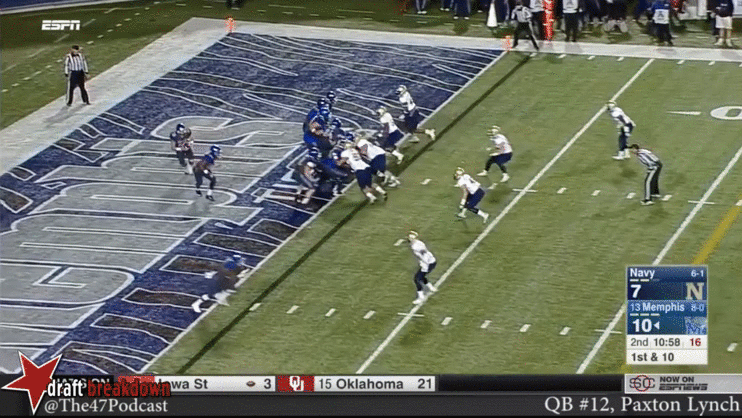 Prescott: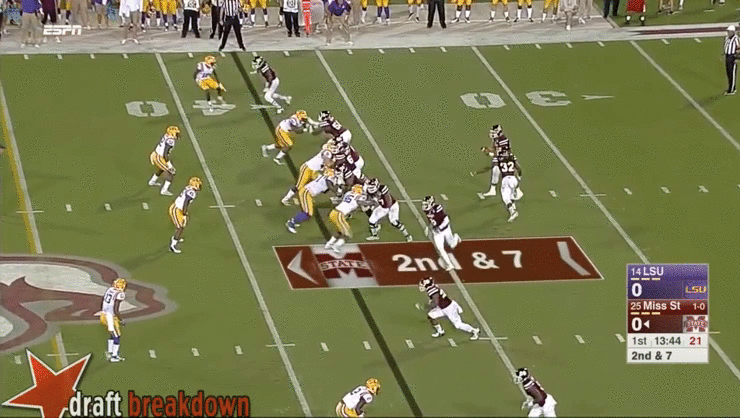 Both quarterbacks dip their arm back to gain power, but their mechanics on the run are still similar. Both follow through, by falling on their front foot. This allows them to put power into their passes.
Now, let's take a look at the two quarterbacks on the run when they set their feet.
Lynch: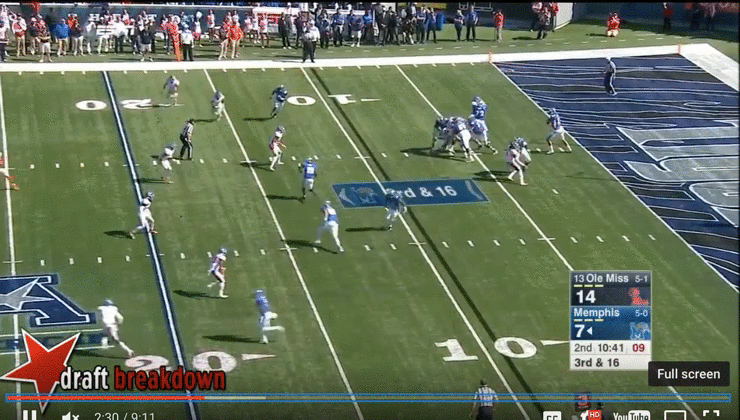 Prescott: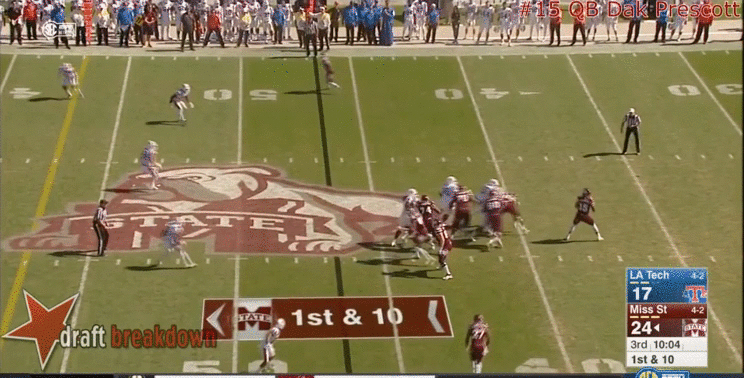 Both quarterbacks look very mature in these clips. They keep their eyes downfield, while getting to a spot that frees them from rushing defensive ends. Before dialing up the pass, Lynch and Prescott both set their feet before letting it rip. Again, this goes back to their athleticism. But, these clips are a testament to how both quarterbacks can quickly evolve in today's NFL, where elite athletes continue to find a role.
As I mentioned earlier, Lynch and Prescott release the football at the same point. Let's take a look at their throwing motions, broken down into screenshots, to see how they gain power.
Lynch:
Notice the elongated release from Lynch, something that will irritate NFL coaches. A guy of his height cannot bring the football down and in a wind-up like that. The power needs to come more from his legs and not from his arm.
The hand and shoulders getting ready to follow through.
Lastly, the follow through.
Prescott:
I'd like to see a shorter distance between his feet, but he's holding the ball with two hands and he's body is torqued in the direction he's throwing in.
And now, let's watch the plays in motion.
Lynch: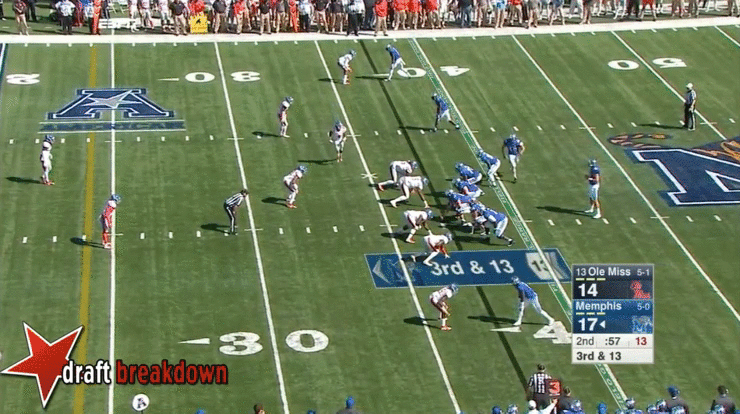 Prescott: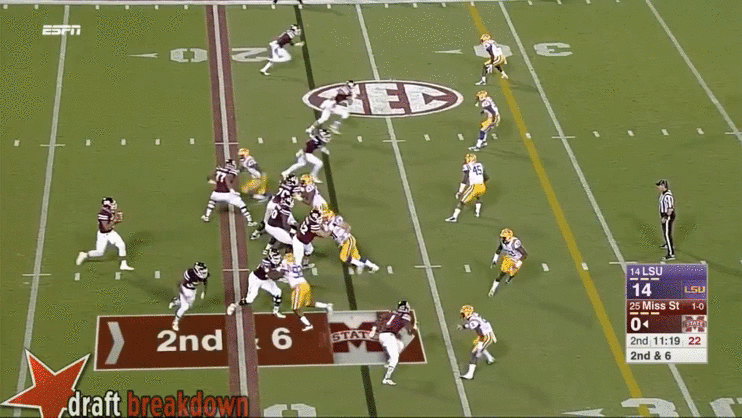 If you look at both of their statistics from the 2015 season, they are also quite similar. Lynch put up 28 touchdowns and four interceptions, while Prescott put up 29 touchdowns and five interceptions. Lynch went up against competition from the American Athletic Conference, while Prescott went up against some of the best teams in the country in the SEC.
While each player improved every season in college, one thing that is clear to me is that both quarterbacks are extremely raw. If you watch film on both of these players, it's clear that their strengths are predicated on the system they run. Both Lynch and Prescott have a lot of refinement do before becoming NFL quarterbacks. There are times where both quarterbacks are spot-on, but both players can be inconsistent with their ball placement. Lynch and Prescott can leave their receivers out to dry by leaving balls up in the air, allowing defensive backs to come in and blow up their intended receiver.
In college, Prescott completed 66.2 percent of his passes in 2015, while Lynch completed 66.8 percent of his passes. Prescott averaged eight yards per pass, while Lynch averaged 8.5 yards per pass. But it's worth mentioning that only 10.7% of Prescott's passes were thrown 20 yards or more. That's a little concerning for the NFL, where offenses need a deep-ball element to their scheme.
In summary, Prescott and Lynch are very similar and it's not just their traits. It's also their progression. While Lynch will most likely end up as the starting quarterback in Denver at some point soon, it should be said that he and Prescott are nowhere near ready to be NFL quarterbacks. There are some traits to love out of the two. Lynch apparently has a rocket for an arm, but when you check out the tape and compare the two, Prescott's is just as good. Prescott and Lynch are both excellent leaders that can both pick up first downs with their feet.
With their interest in the two, it's clear that the Cowboys have an idea in mind regarding both players and who they can end up becoming. Judging by the two, as well as their interest in Jacoby Brissett and Cook, the Cowboys want a quarterback who can be more athletic and one that can provide a dimension outside of just being a pocket-passer.
Lynch's ceiling seems to be through the proverbial roof, but would it have been worth packing a second- and third-round pick to nab him? After three rounds, the Cowboys would have just two rookies, barring no other trades, on their roster in Elliott and Lynch. Dallas' inability to pull the trigger on Lynch may just be a blessing in disguise. I'm weary of Prescott ever becoming an NFL quarterback, but I definitely believe that both he and Lynch are similar enough where the Cowboys could possibly develop the Mississippi State product into a starter.
Fortunately for Prescott, there are three coaches on the roster who played the quarterback position in head coach Jason Garrett, quarterbacks coach Wade Wilson, and offensive coordinator Scott Linehan. In the eyes of Jerry Jones, not trading up for Lynch will be something he'll regret for awhile, but the potential is there for Prescott to evolve into an above-average quarterback in the NFL with a more-refined skillset and better skill players around him.